Discover more from Channeldraw
This is a place of work. If you are not working, then get on the streets and rebel.
"ACT NOW!" The Channeldraw newsletter
«This is a place of work. If you are not working, then get on the streets and rebel.»
"ACT NOW!"
Friday kicks off "ACT NOW!" my new exhibition dedicated to the fight against climate change and will open at the Casa del Parco Adamello on the slopes of the glacier which is slowly melting.
Within the new festival "Temperature, illustrating climate change" from 16 to 18 June in Cevo in the province of Brescia.
Here is an introductory text written by Elettra Stamboulis:
"Acting has a price. Silence or stand still, too. The price to pay for those who act is to make mistakes (those who don't do, don't make mistakes - it's not just a popular saying...), be unpopular, suffer criticism. It means being pilloried, positioned in public discourse as "the problem", forgetting that the problem is another. It also happened recently: after the flood in Romagna, those who have governed the area for decades had the foresight to attribute the responsibility to the environmentalists (who really are in hiding in that part of Italy) who protected the coypu. So it's easy to become the perfect scapegoat. Acting means exposing one's body, increasingly part of the action, in a disembodied world.
Silence has a price. It means not only being accomplices, that we are all a bit like that, given that we are fine with this world of consumption. It means not finding the words, stammering the truth and not being able to give a voice to the planet earth that hosts us. Immobility has the price we discount every day, pieces of ecosystem that disappear in historical and no longer biological times, leaving us orphans and in sidereal solitude.
All of this can be drawn. "
_________________________________
CLIMATE CHANGE WARRIORS
June 16/17/19, Temperature – Illustrating climate change,
Adamello Park House, Cevo (BS), Italy
A project by Gianluca Costantini and Laura Silvia Battaglia
With the students of the Academy of Fine Arts in Bologna and the Masters in journalism of the Catholic University of Milan.
On show: Vittoria Adorno, Gaia Ania, Matteo Braghin, Sellienite, Diandra Cannata, Oscar Capalbo, Caterina D'Angelo, Chiara De Nunzio (Sunny), Laura Fioresi, Francesca Forganni, Margherita Govi, Christiansen Andres Krook Erin, Simona Liol, Alice Marchi, Rodolfo Marin, Giulia Sanna, Irene Sara, Francesca Sfondrini, Caio Tripodi, Helena Baumeister and Debora Volpi
"The thousand battles for a better environment" by Laura Silvia Battaglia
Going back in the history of climate activism, we discover many things: for example, that the father of our sensitivity in this regard is an American, Aldo Leopold, who played with squirrels to the point of hating his father who shot them during the hunting trips. He didn't like it so much, that he decided to defend American flora and fauna wholeheartedly, giving us back an immense forest heritage that is still protected.
It also turns out that climate activism has no nationality, latitude, color, gender, professional or cultural background: they are and have been activists: farmers, soccer players, workers, students, photographers, housewives, university professors, scientists, cartographers, biologists marines, girls and boys. They live on four continents and are people of few words and many deeds.
The same ones that led some of them, especially representatives of indigenous peoples in Sub-Saharan Africa and in South or Central America, to be subjected to persecution until death, as demonstrated by the case of Berta Càceres, rightly considered the figure of climate activist most relevant, which has inspired generations of people all over the world.
Going back in the history of climate activism also means taking courage to go forward: and doing so despite the indifference of governments, multinationals, the population of rich countries, double cultural standards that unload responsibility, waste and consequences on the southern hemisphere of the consumption of the very few against millions.
For this reason it is interesting to discover that the movement of global climate activists also seems to have tired of remaining unheard and of being mocked in international fora: the case of Severn Cullis-Suzuki and the better known Greta Thunberg are exemplary. Now, there are those who claim a less soft and less peaceful action, even if in any case never directed against people but certainly directed against objects-symbols of an opulent culture indifferent to Creation: they are individuals like Andreas Malm or Gianluca Grimalda or they gather in collectives like "Ultima Generazione". But everyone has one, only goal: it's time to say enough to the senseless and intensive exploitation of the planet. And it's time to do it by any means possible.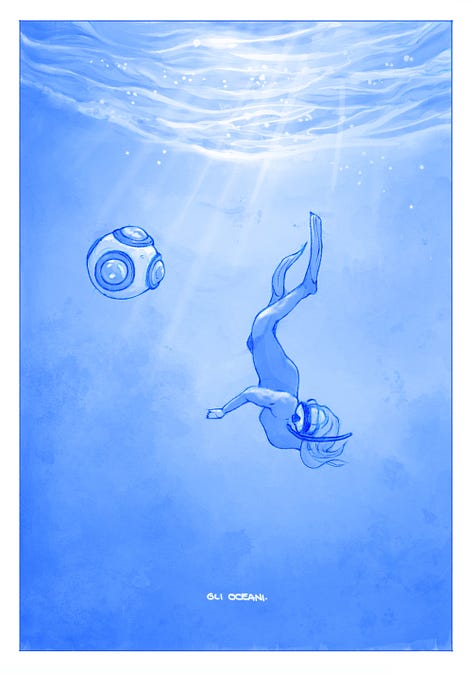 _________________________________
Thanks for reading Channeldraw! Subscribe for free to receive new posts and support my work.