Discover more from Channeldraw
This is a place of work. If you are not working, then get on the streets and rebel.
The Channeldraw newsletter
«This is a place of work. If you are not working, then get on the streets and rebel.»
POET GALAL EL-BEHAIRY IS AT RISK AFTER 80 DAYS ON HUNGER STRIKE
Free download of the drawing: Download
25 May: PEN International raises serious concerns about the health of imprisoned Egyptian poet and lyricist Galal El-Behairy after 80 days on hunger strike. Earlier in May 2023, PEN International received a message from El-Behairy announcing that he will escalate his hunger strike on 1 June 2023, refusing to take fluids, in protest against his continued unjust detention. This follows a message PEN International received from El-Behairy in February, announcing that he would begin a hunger strike on 5 March, the fifth anniversary of his arrest.
Despite fully serving an unjust 3 year sentence by a military court in July 2021, Egyptian prosecutors subsequently brought forth additional fabricated charges against El-Behairy, leading to his continued arbitrary pre-trial detention. El-Behairy's health has significantly deteriorated due to torture and inhumane detention conditions over five years of imprisonment, and he has reportedly lost considerable weight since he began striking in March 2023.
PEN International believes that El-Behairy is being targeted for his writings, which are critical of the Egyptian authorities. The organisation believes that El-Behairy's life is at grave risk, and holds the Egyptian authorities responsible for El-Behairy's physical and psychological health and well-being, and Egypt's General Prosecutor Hamada El-Sawy, for his unfair imprisonment. PEN International calls on the authorities to immediately and unconditionally release El-Behairy and drop all charges against him, and to ensure that he receives urgent and adequate medical care, pending his release. Continue
_________________________________
TAHRIR STREET – BUILDING 48
The first Palestinian Comics Exhibitions
Which was launched as an initiative by Palestinian artists to commemorate the seventy-fifth Nakba
15/05/2023 at 4:30 pm, the exhibition will continue until 1/6
from 14:00 to 20:00 pm, at 3 Dar Awwad St., Old City, Ramallah
With: Leila Abdelrazaq, Gianluca Costantini, Samir Harb, Seth Tobocman, Hamza Abuayyash, Mohammad Sabaanh, Hala Saif, Dania Omari, Sara Shehadh, Noor Totah, Haneen Nazzal, Jihan Yeya Abo Lashein, Karmel Khalil, Mueen Hammad, Hiba Hamdan, Khalid Ladadwah, Shahd Alshamaly, Shahd Alruzze, Ahmed Sabri Abu Nada, Omar R. Shalayel, Michael Jabareen, Fouad al Yamani, Azeez Azeez, Ethan Heitner, Ziad Khaddash and Faris Sabaneh. Continue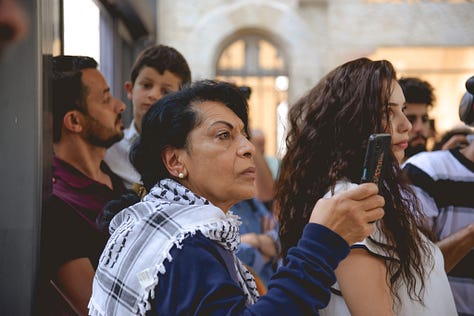 _________________________________
SWEDISH OBSERVATORY




FOR HUMAN RIGHTS
SOHRI is a non-profit organization that aims to promote and protect human rights through research, advocacy, and education. The organization's mission is to provide reliable and independent information on human rights violations around the world, with a focus on marginalized and vulnerable communities. Continue
Alex Neve, Canadian human rights lawyer and advocate who served as Secretary General of Amnesty International Canada from 2000-2021. He has worked on a wide range of human rights issues including Indigenous rights, refugee protection, and counter-terrorism. His leadership and dedication to the cause have made him a respected figure in the field.
Dr Melissa Phillips, is a consultant and academic with almost 20 years' experience working with migrants and refugees in Australia and overseas. She is currently a Lecturer in the School of Social Sciences at Western Sydney University, Australia.
Iain Dace, British-Swedish citizen who serves as the chairman of the voluntary organization NGBG, which focuses on improving access to cultural resources, venues and networks for those without academic cultural backgrounds. He is also a well-known activist and community organizer in the Skåne region in Sweden, with interests in human rights, social justice, asylum and migration issues.
Kajsa Ekis Ekman, Swedish journalist, author and activist who has reported extensively on issues related to economic and gender justice. She is also the author of several books, including "Being and Being Bought: Prostitution, Surrogacy and the Split Self".
Gianluca Costantini, Italian artist and activist who uses his artwork to raise awareness about social and political issues. He has worked on numerous projects related to human rights.
Huwaida Arraf, Palestinian-American lawyer and human rights activist who co-founded the International Solidarity Movement and served as its chairperson from 2001-2003. She has worked on issues related to Palestinian rights, political prisoners, and freedom of movement.
Moataz El-Fegiery, Egyptian academic and human rights advocate who has reported on political and social issues in Egypt and the Middle East. His work has helped to shed light on human rights abuses and corruption, and has inspired others to take action and demand change.
Dina AbdelRahman, an Egyptian journalist, tv host, and artist. She worked for several Egyptian channels and was famous for presenting the morning talk show. She has worked on cases involving freedom of expression, and political rights. Her dedication to justice and equality has made her a respected figure in the media field.
Mark Levine, Professor of Middle Eastern history and political science who has written extensively on human rights, political activism, and social justice.
Pia Holmberg, is a Swedish occupational therapist with a strong personal interest in human rights issues, particularly regarding pharmaceutical industry greed. As a health activist, she participates in activities that confront the pharmaceutical industry over excessive medicine prices and deception about research and development costs.
Laura Cappon, an Italian journalist and author who has reported on human rights issues and social justice in Europe, Africa, and the Middle East. Her dedication to telling stories that might otherwise go untold has made her a vital contributor to the field of human rights journalism.
_________________________________
YUSUF KERIM
Thousands of social media users in Turkey have called on authorities to release Gülten Sayın, the mother of Yusuf Kerim Sayın, who is suffering from bone cancer, after the child's father posted a video of him crying and asking for his imprisoned mother.
"Yusuf Kerim needs his mother during the ongoing treatment. 'I want my mother' he cries… Let Yusuf be with his mother," his father, Süleyman Sayın, tweeted Saturday. Continue
The video triggered reactions from Turkish politicians, lawyers, human rights advocates and others.
Gülten Sayın is currently serving a sentence on conviction of alleged links to the Gülen movement.
Peoples' Democratic Party deputy and human rights defender Ömer Faruk Gergerlioğlu, a medical doctor by profession, recently said, "Ewing's sarcoma, which Yusuf Kerim was diagnosed with, is one of the deadliest of cancers. The truth is that the mother might lose her son while she's in prison. The child does not have much of a chance to survive. If they give the mother at least six months to be together with her son, she would be with her child before his death."
Sayın was sentenced to six years, three months for working at a student dormitory in the northwestern province of Sakarya that the government subsequently closed down because of alleged ties to the Gülen movement. She was also accused of depositing money in Bank Asya, which was closed by the government after a coup attempt in 2016 because of its links to the movement.
Turkish President Recep Tayyip Erdoğan has been targeting followers of the Gülen movement, inspired by Turkish Muslim cleric Fethullah Gülen, since the corruption investigations of December 17-25, 2013, which implicated then-prime minister Erdoğan, his family members and his inner circle.
Dismissing the investigations as a Gülenist coup and conspiracy against his government, Erdoğan designated the movement as a terrorist organization and began to target its members. He intensified the crackdown on the movement following the abortive putsch in 2016 that he accused Gülen of masterminding. Gülen and the movement strongly deny involvement in the coup attempt or any terrorist activity. Source
_________________________________
MY PORTRAIT OF MA THIDA
IN OPENBOOK
In openbook a magazine of State Library New South Wales, Australia, Autumn 2023
Openbook is a lavish, award-winning magazine of new writing, fresh ideas and contemporary photography.
The bumper autumn issue includes an intimate view of late artist Peter Kingston's home and studio, a profile of Sophie Cunningham, new writing by Mirandi Riwoe and Shannon Burns reflects on the library that made him. It revisits Patrick White's Nobel Prize win 50 years later, travels the globe with writer Mark Dapin on a tour of the world's most beautiful libraries, and much more.
A Burmese writer forced to live outside he country confronts her situation with questions that should have simple answers, but don't. Continue
_________________________________
PANIC AND CLIMATE ANXIETY
Today I visited the Nordiska museet and I was very impressed by the exhibition "The Arctic – While the Ice is Melting" at a certain point of the set up I came to this caption:
"Panic and climate anxiety
The word panic comes from the name of the Greek demigod Pan. According to legend, he used to scare the goats to death. Medicine describes panic as a sudden emotional response that overwhelms and paralyzes. One possible reaction is to flee from real or perceived danger.
Reports and visible evidence of climate change trigger climate anxiety in some people, resulting in discomfort, depression and a sense of helplessness. Climate anxiety can involve recurring thoughts about disaster and emotional distress about what is to come. It is often young people who are affected. Climate anxiety can lead to panic attacks, a sense of impending doom, and a sense that our entire existence and survival are threatened."
At the end of the exhibition, I panicked too… Continue
_________________________________
JOHANN LEHNER BEFORE HIS EXECUTION IN MUNICH, MAY 3, 1919
Paramilitary Free Corps and government troops documented their crushing of the Munich soviet republic in photos. This image taken by Free Corps officer Hermann Pfeiffer shows lathe operator Johann Lehner being arrested. The soldiers thought that Lehner, who was acutally innocent, had been involved in the shooting of hostages at the Luitpold Academy. He was physically abused and , shortly after this photo was taken, executed.
Johann Lehner before his execution by government soldiers in Munich, May 3, 1919. Continue
Thanks for reading Channeldraw! Subscribe for free to receive new posts and support my work.